The funniest thing about 'Noises Off', this September's production from The Bancroft Players at The Queen Mother Theatre, Hitchin, is that it's a farce within a farce!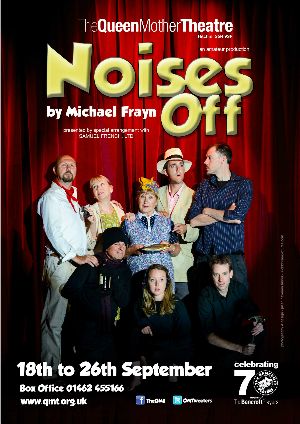 'Noises Off' by Michael Frayn is often referred to as the most hilarious play ever written. If you haven't seen it, then let's just say we follow a troupe of actors trying to put on a farce called 'Nothing On'. The very idea that you see the play from the front and from backstage that is what sets 'Noises Off' apart from anything else you've ever seen.
If you have seen it before then you will know that the laughs will reach the places nothing else will from TV, film or theatre at the moment! So see it again afresh.
You might be interested to learn that now you can select your seat and book now using the Queen Mother Theatre's new online theatre booking system.
Noises Off is at the Queen Mother Theatre, Hitchin from18 – 26th September.
Box Office: Opens beginning of September, meanwhile you can book online: www.queenmothertheatre.org.uk
Follow @erniestheatre